Giant Solomon's Seal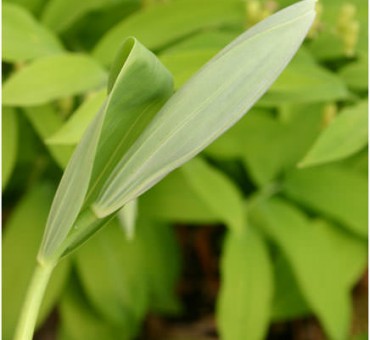 This woodland species in the lily family produces a delicious green spring vegetable. It should be harvested just prior to the leaves opening. The flavor is much like a mild asparagus or spinach and can be eaten fresh or lightly steamed. Numerous cuttings in season can be taken as it has a large rootstock. Plant in light shade. Our seed source originally came from oak woodland in southwest Michigan where the plants grew to 5 ft. tall. Grown both from seed and cuttings at our farm.
Plant Specs
Genus & Species:
Polygonatum biflorum var commutatum
Seed Source:
Michigan
Hardiness:
-30
Height (ft):
5
Width (ft):
1
Soil:
Woodland species best in rich organic soil.
Climate:
Zone 4-8.
Ease of Cultivation:
In shade, an easy plant to grow which spreads slowly. Yields are low and fleeting offering a crop only in the spring like asparagus. The flavor is good and worth growing a patch even if it is only a nibble plant for you.