Dosakai Cucumber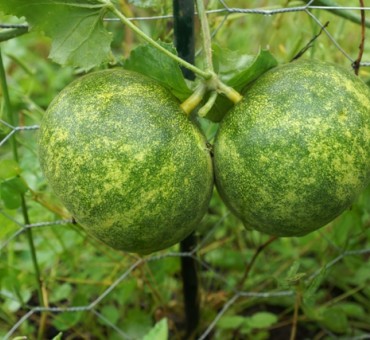 This species cucumber comes from India where it is used both raw and cooked. It is a green fruit produced in great abundance along a rather compact vine to 6 ft. or less. The amount of flowers is amazing. Almost solid yellow along the vines. It can be trellised or let it grow along the ground. The fury vines and leaves are not bothered by herbivores. Dosakai appears to need cross pollination with additional Dosakai plants to set fruit. It is immune to all the insects and diseases that affect cucumbers. Fruit ripens starting in 70 days and continues till frost. Some seedlings may have a bit of lemon flavor to them, others not so much. Plant seeds ¼ inch deep after frost. Germination occurs after 7 days.
Plant Specs
Genus & Species:
Cucumis sativa?
Seed Source:
Michigan
Height (ft):
4-8 ft. vine
Pollination Requirements:
Appears to need two plants to set fruit.
Soil:
Not particular-loam to sand ideal.
Climate:
Seems to tolerate heat well and grow in dry soils.
Ease of Cultivation:
Anyone can grow it. Make sure to have 2 plants for fruit set. Start plants early inside as this is a longer season cucumber it seems. Stores well.