Hughes Applecrab (Hewes)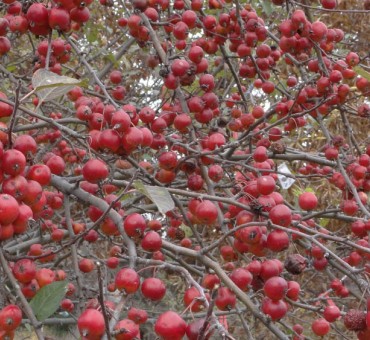 True to type apple from seed produces dense clusters of bright red fruit delicious for jam, jelly and preserves. This species type called Virginia Crab was a favorite of Thomas Jefferson where it was used as a cider apple. Our seedling selections are two generations away from the grafted form which was much larger in size but unfortunately more prone to insects. We began by slowly selecting the most vigorous and disease free trees and suprisingly each tree is identical in its fruit characteristics. This is a tart fruit but juicy. There is little insect or disease problems. Trees are semi dwarf reaching 15-20 ft. tall. Some are more globe like, others remain pyramidal in shape. Hewes is likely an apomictic species (true from seed) and the grafted form that we received from Edible Landscaping is a larger selection of it.
Plant Specs
Genus & Species:
Malus x virginiana or southern crabapple
Pollination Requirements:
Self fertile as far as we know. Will cross with other crabapples as well.
Soil:
Not particular and will produce well in dry soil and even clay that is somewhat alkaline.
Climate:
Zone 4ish to zone 8 . Able to tolerate a lot of air humidity.
Ease of Cultivation:
This is our most productive crabapple without the bug and disease issues. Probably could be grafted too but seed produced plants are still very uniform in fruit quality and yield. Get out the sugar should you use it for apple sauce.