Green Cluster Prickly Pear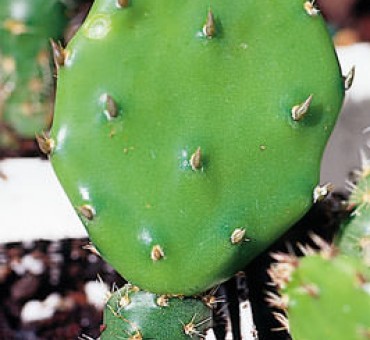 Clean Green Pads-Not a Thorny Plant
This selection can be used specifically for Nopales and is relatively free of thorns but not free of the glochids. Each plant produces multiple clusters of clean thick pads that are quite long being up to 6 inches in length. This variety is the closest you are going to get to the Texas selections which are not hardy in Michigan. Keep in mind, you are still going to need to peel them with gloves to avoid those teeny glochids. Only very old pads develop some thorns but for the most part this selection has few if any thorns. The pads themselves are larger than the typical prickly pear and for the first year are quite clean and bright green. This is cutting grown and was a selection from our seedlings given to my mother. She grew it for its bright yellow flowers. Long live the memories of mom.
Plant Specs
Genus & Species:
Opuntia x hybrid cross
Seed Source:
Michigan Ecos
Hardiness:
-15 or more.
Height (ft):
1
Width (ft):
1
Soil:
Needs sandy soil. Has to drain well.
Climate:
Best in dry areas. Can tolerate cold but not wet.
Ease of Cultivation:
Anyone can grow cactus. Hard to kill.