Virginia Mountainmint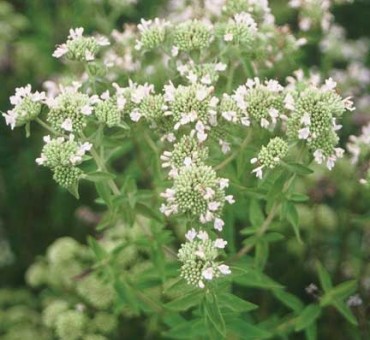 Blend of Licorice and Peppermint All in a Frangrant Long Lived Perennial
From the standpoint of butterflies and bees this plant the strongest strong attractant we have at the farm. From quite a distance you can see a cloud of butterflies and bees hovering over our planting which is located in the middle of a field. The mint foliage is just divine and makes a dark rich tea. The flavor is a perfect balance of licorice and peppermint. Not quite as vigorous as the cultivated mints, Virginia spreads by runners in dense clusters or groups. These clusters will form thick mats in our field of rhizome grasses. For best quality tea, harvest the leaves in the morning in June and July before the plant flowers. This species can also be mowed at least once and still remain vigorous. We are using more of it in our plantings for an attractant specifically for honey bees and the numerous butterflies which seem to love it. It is one of the few persistant prairie plants that we have trialed here without damaging burning or herbicides.
*Virginia Mountainmint seeds also available
Plant Specs
Genus & Species:
Pycnanthemum virginianum
Seed Source:
IL
Hardiness:
-30
Height (ft):
3
Width (ft):
2
Soil:
Dry is fine. Sandy loam or loam.
Climate:
Zone 3-8
Ease of Cultivation:
Durable and easy to grow. Lives long and prospers.