White False Indigo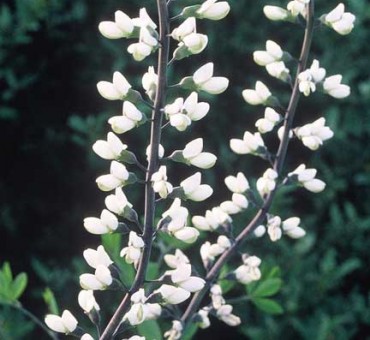 Nitrogen Fixing Prairie Legume
Nitrogen fixing member of the pea family that works best in sandy soils but tolerates a variety, including very wet soils. Similar to the blue indigo, but a larger plant with white flowers on long stalks up to 6 ft. tall. Pods hang on late in the fall and make for an interesting display into the winter. Long-lived. Easy to flower in full sun. Have seen this plant growing in pure subsoil with little organic matter. Our plants were grown from seed found along a public right of way in central Michigan.Unlike the blue indigo, this species tends to produce deeper tap root and is highly competitive in a solid grass (quackgrass) and even polluted type soil environment. Native prairie plants come and go and rarely establish past 10 years. This species can establish outside the concept of prairie,
Plant Specs
Genus & Species:
Baptisia alba
Seed Source:
Michigan
Hardiness:
-30F
Height (ft):
7
Width (ft):
3
Pollination Requirements:
Many bumblebees love this plant.
Soil:
Does not matter too much.
Climate:
Zone 3-8.
Ease of Cultivation:
A long lived perennial species and worth growing just for the massive flower heads. Can be mowed periodically to help increase the nitrogen in the soil.Will easily re-sprout and grow much like alfalfa does from a central crown.