White False Indigo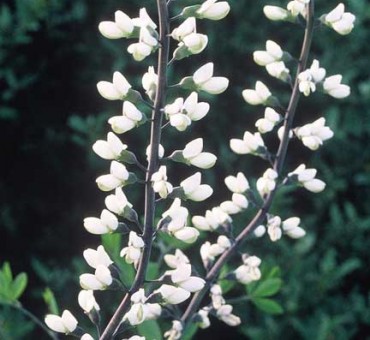 Nitrogen Fixing Prairie Legume
Nitrogen fixing member of the pea family that works best in sandy soils but tolerates a variety, including very wet soils. Similar to the blue indigo, but a larger plant with white flowers on long stalks up to 6 ft. tall. Pods hang on late in the fall and make for an interesting display into the winter. Long-lived. Easy to flower in full sun. Have seen this plant growing in pure subsoil with little organic matter. Our plants were grown from seed found along a public right of way in central Michigan. We also offer seeds of this plant too. (See the seed section)
*White False Indigo seeds also available
Plant Specs
Genus & Species:
Baptisia alba
Seed Source:
Michigan
Hardiness:
-30F
Height (ft):
7
Width (ft):
3
Pollination Requirements:
Many bumblebees love this plant.
Soil:
Does not matter too much.
Climate:
Zone 3-8.
Ease of Cultivation:
A long lived perennial species and worth growing just for the massive flower heads. Can be mowed periodically to help increase the nitrogen in the soil.Will easily re-sprout and grow much like alfalfa does from a central crown.