Yellow Groundcherry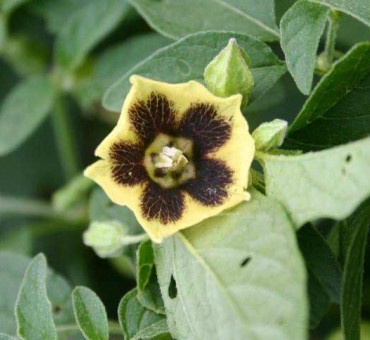 Perennial Ground Cherry-The Hardy Husk Tomato
One of the most widely distributed 'weeds' of worn out soil this species was widely used at one time as a 'garden huckleberry' in the prairie purposely kept alive at the edges of corn fields. Yellow groundcherry is a deep tap rooted perennial and produces a husk tomato with sweet yellow fruit. Usually the fruit is processed into jam, jelly, and pies or mixed in with other wild berries. The fruit stays in good condition in its husk up to two months making it easy to store at room temperature. It's recommended to eat the fruit when it's pure bright yellow. It is poisonous if green. This type produces the husks in fall which need to ripen on the plant over a long period. Each plant produces 2-4 stalks some of which can fall over when laden with fruit. Fruits in 2 years from planting. Currently in production for fall 2018. Will be ready to ship by October.
Plant Specs
Genus & Species:
Physalis longifolia subglabrata
Seed Source:
MI, CT
Hardiness:
-25
Height (ft):
4
Width (ft):
2
Pollination Requirements:
Likely self fertile.
Soil:
Grows anywhere including gravel.
Climate:
Zone 3-10
Ease of Cultivation:
Very durable. Yields high but not like the annual versions which are much more developed in terms of seed to fruit ratio. Flavor is quite good but the fruit is a tad seedy. Ripens unevenly here.