Rooftop Sedum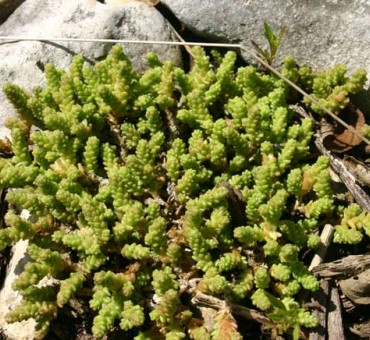 Stonecrop Full Sun-Part Shade-Rock or Soil or Roof
Mixes Well with Lawns-You can mow over it. Will grow and mix with areas with thin grass or areas with low or no soil fertility. Selected from a naturalized population growing on a rock strewn remote peninsula on Lake Huron. Dense growing-easy to spread with cuttings. One of the best forms we have found that could be used for green roofs. Does not suppress growth of other plants and is easy to produce. Grows quickly forming a dense clump. Spacing of 1ft by 1 ft. is recommended and would fill in completely in one year at that spacing. Full sun is ideal however even in shade this species thrives. Flowers are bright yellow and can be seen at quite a distance. Found as a chance seedling on a peninsula along a Lake Superior shoreline. This is a hardy soul that can tolerate a rock strewn boulder field with no organic matter and 7 ft. of snow and ice covering it a good part of the year.
Plant Specs
Genus & Species:
Sedum
Seed Source:
Ecos Northern Michigan
Hardiness:
-25
Height (ft):
0.25
Width (ft):
1
Soil:
Almost doesn't need soil. Roots lightly.
Climate:
Zone 3-9. Incredibly tolerant of heat drought and humidity.
Ease of Cultivation:
There is no easier plant to grow. One of the best for living roofs.