'Equidistance' Horsetail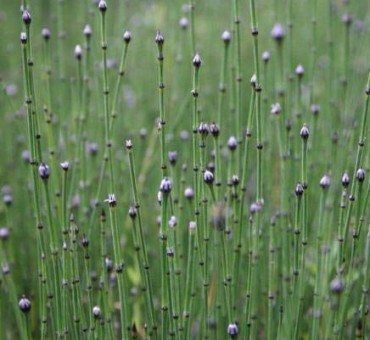 Dense Impervious Groundcover
"Equidistance" is a dwarf horsetail originally found in Central Michigan on a sand flat growing in a compacted soil few other plants could tolerate. There it created a dense sod with a matrix of small rhizomes. Each plant produces a straight stalk to 8 inches high with no side branching. Very easy selection to grow in a wide variety of soils including wet and soggy soil. Horsetail's silica-based stems are great for polishing and washing metal, hence the name 'pot scrubbing plant'. The plants have been trialed for phytoremediation because they are able to a absorb gold up to 4.5 ounces/ton of fresh stalks. Native Americans used the tiny tubers as a source of food and allowed horses to graze on it. Can grow in sun or light shade. Currently in production for shipping fall of 2018.
Plant Specs
Genus & Species:
Equisetum
Seed Source:
Central Michigan
Hardiness:
-25
Height (ft):
3-6 inches without the flower stalk
Width (ft):
12-18 inch spread
Soil:
Moist to dry. Tolerant of low fertility soils.
Climate:
Zone 3-8. Hot, dry, cold, moist. Tolerant.
Ease of Cultivation:
Very easy. Slowly creeps outward with dense branching. The texture of this plant is neat.