Fruitfull American Cranberrybush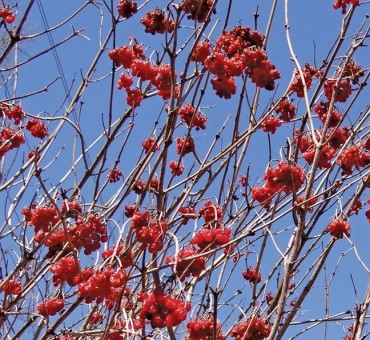 Precocious Selection with CloselySpaced Fruiting all Along the Branches
Selected strain from Michigan plants found in a wetland. From 1500 seedlings we grew, we found a couple that fruited in 3 years from seed. Seedlings are compact in growth and fruit heavy at a young age with exceptionally bright dark red berries. Height is a little shorter than the species from 4 to 8ft. This selection is a good one for fruit production. The plants have almost a spur type fruiting habit much like apples with fruiting occuring all along the branches. The fruit size is smaller than others but it still has the same quality. It is necessary to let these freeze quite a few times before they are palatable to any extent. Once bletted fully the fruit does taste like a cranberry. Normally processed with sweetener or another sweeter fruit juice.
Plant Specs
Genus & Species:
Viburnum trilobum
Seed Source:
Ecos-Fruitfull-Michigan
Hardiness:
-30
Height (ft):
6
Width (ft):
6
Soil:
Wide range from wet to dry. Sand to clay.
Climate:
Zone 3-8.
Ease of Cultivation:
Anyone can grow and fruit this plant.