Goumi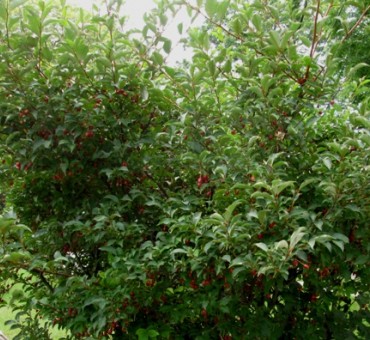 This close relative of the Autumnberry produces huge amounts of healthy fruits in large clusters. The dark red berries are easy to harvest as they grow all along the branches. Our plants that we use for seeds were purchased as seedlings and began fruiting in 3 years from seedling. Each plant is quite different with ripening going from summer to fall. The leaves and flowers of this species are larger and more ornamental than Autumn Olive but otherwise very similar in appearance. For us the flavor of the fruit is as good or better than the autumnberry. Has the same antioxidant properties of autumnberry and is worth growing just for making juice, jelly and drying. This strain produces a more varied ripening time and different colored fruits too. Nitrogen fixing. Durable in a variety of soils except wet. Full sun is ideal.
Plant Specs
Genus & Species:
Elaeagnus multiflora
Seed Source:
Michigan, Illinois
Hardiness:
-20 F
Height (ft):
6
Width (ft):
6-10
Pollination Requirements:
Self fertile and will naturally cross with other goumi and hybrids within the species and genus.
Soil:
Nitrogen fixing-almost any soil except wet.
Climate:
Zones 5-9 Appears adaptable in warmer climates without issues.
Ease of Cultivation:
Picking is tedious but yields are usually high. Some are small fruited, some are large. Some are dark red in color which are the most healthful in terms of anthocyanin levels.You can make almost anything out of the fruit. Kind of a sour cherry effect in cooking.