Plant Bands-Paper Pots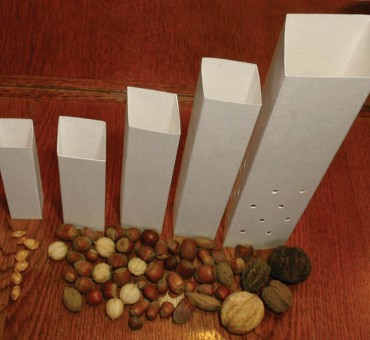 Paper Pots-Grow Woody Plants from Seeds Biodegradable-Light Guage Version with Holes Punched for Greater Root Penetration Direct seed into this pot or transplant small seedlings into it. The material used to make plant bands is a thick paper with a thin layer of plastic coating on the outside to prevent degradation occurring during the first year of production of the tree. Plant bands will last 1-2 growing seasons in the production of your tree. At that point you should either repot or plant the tree directly into the ground. It is recommended to remove the pot before planting.
1.5" x 1.5" x 6" Good for evergreen, rose, perennials and smaller seeded plants that don't produce a huge amount of foliage the first year.
2" x 2" x 6" Apple, pear, pawpaw, persimmon, magnolia and hazel.
2.5" x 2.5" x 6" Oaks, Hickory, Hazelnut, Pawpaw, Chestnut (More space diameter wise means greater caliper of the seedling.)
3" x 3" x 8" Chestnut, Oaks, Hickory (Better depth for tap rooted species.)
3" x 3" x 8" Walnuts, Transplants or seedlings where you need greater spacing to allow caliper to develop along with height and greater root mass.)
Plant bands contain an overlapped corner where you can remove the plant by peeling the pot down the side without disturbing the root ball. Remove the pot when planting so the plant can root into the surrounding soil. Our pots also contain holes punched into them to allow root penetration into the surrounding soil. Plant bands are perfect for tap rooted trees and helps with air rooting the emerging roots at the bottom of the pot.
See Snap Tray - Plant Bland Tray- For use specifically with plant blands. This is much easier to use than the blow molded trays. In reality as long as the pots can stand upright and accomodate the soil and the weight of the growing plant, any container including a plastic milk crate will work.
Discontinued by the manufacturer.