Ken's Select Hazelnut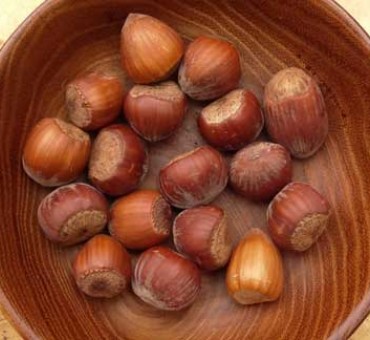 Productive Disease and Insect Resistant Selections with Zero filbert blight and mites.
Specifically selected for the highest disease and insect resistance. Plants are completely immune to filbert blight, twig girdlers and even blue jays because the nuts are encased in the husk dense enough to prevent easy extraction by the birds. Nuts are usually produced in dense clusters all along the stems. Our best seed selection that is a specific seed selection originating from the 'heritage' (early 1900's) Gellatly types crossed with Michigan genotype American hazelnuts. Compact plants grow 5- 10 ft. across with height to 10 ft. One of the most durable types we grow with large leaves. Medium growth rate. Cannot ship to OR,WA
Currently in Production for fall (September) of 2018.
Plant Specs
Genus & Species:
Corylus avellana x americana
Seed Source:
Michigan
Hardiness:
-30F
Height (ft):
5-10
Width (ft):
5-10
Pollination Requirements:
Self infertile. Need two plants of the same type or another Precocious or American.
Soil:
Does well in slightly acidic sandy loam or loam. Not too particular but does benefit from a layer or rich organic material if you planting in sand.
Climate:
Zone 3-8. Better in cool areas.
Ease of Cultivation:
Easy to grow and fruit. Can hand harvest the nuts fairly easy and let them dry indoors and they easily fall out of the husk. Fruiting begins once you see the catkins or the year after. Plants are then 4-6 ft. tall.