Turkish Tree Hazel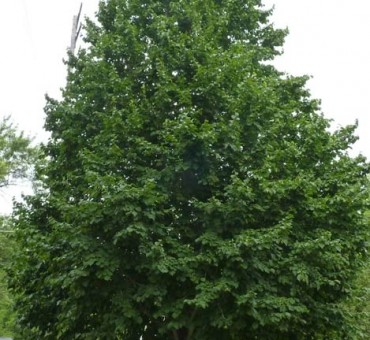 Largest of The Tree Hazelnuts
This species of hazelnut is known as an ornamental tree and is occasionally used as a street tree. It can tolerate a wide range of soil types and is easy to transplant. We have been growing a few different strains and have found them to be highly resistant to filbert blight . The yields are low but the baseball sized nut clusters show up in huge quantities every so often making you want to rethink it as a nut tree. The shells tend to be thicker than most hazels similar to the American hazelnut but the nut is twice the size. The trees take 10-20 years to fruit. Tree structure is like a large linden or oak tree.Tree has a white flaky bark.
Plant Specs
Genus & Species:
Corylus colurna
Seed Source:
Unknown
Hardiness:
-25
Height (ft):
60
Width (ft):
60
Pollination Requirements:
Requires two of the same plant to fruit.
Soil:
Not particular but does well in sandy loam and loam.
Climate:
Zone 4-8. Does very well in northern climates.
Ease of Cultivation:
Right plant right spot equals good growth. Easy.