Ashworth Bur Oak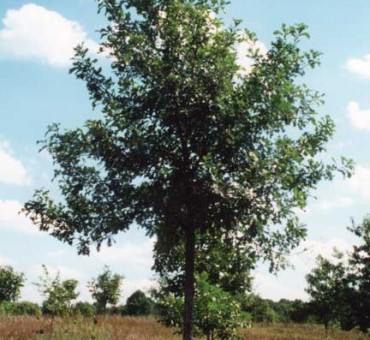 "Ashworth" Sweet Acorn
Selected northern New York strain of bur oak noted for its small sweet acorns and high yields. From legendary plant breeder, Fred Ashworth at St. Lawrence Nursery. These selections are some of the best acorn producers on our farm often producing all along the branches on short spurs much like plums. Our selections came from our orchard planted from seed from grafted selections hybridized by Miguel Marquez. His goal was to increase yields on young trees (precocity) and lower the tannin levels in the acorns. Ashworth acorns require very little leaching. Puree in a blender half acorns, half water and let set over night. Decant the water and taste the meal. If slightly bitter, puree again and let set again. Normally with Ashworth seedlings, only one processing is needed to remove the bitter tannins and the meal is ready for use. Height from 40-50 ft. with equal width. Upright when young.
Plant Specs
Genus & Species:
Quercus x macrocarpa
Seed Source:
Ecos
Hardiness:
-35
Height (ft):
60
Width (ft):
40
Pollination Requirements:
Best to plant two of this strain or another bur oak or hybrid with white oak.
Soil:
Not particular. Sandy loam or sandy.
Climate:
Zone 3-8. Best in the northern strains.
Ease of Cultivation:
Once established very easy to grow. Critical one year to get tap root established.