Burenglish Oak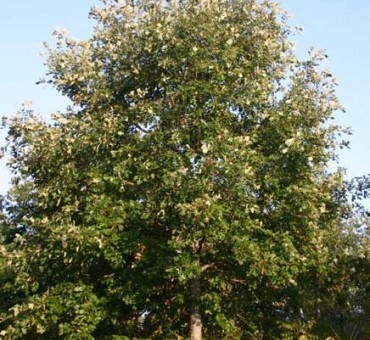 Fast Growing Hybrid Oak-Good Acorn Production
Our McDaniel hybrids are grown from seed from the grafted parent. At our farm, these naturally cross back to the bur oak making a more vigorous hybrid compared to the western strain of this cross. Burenglish oak transplants well and grows in a wide variety of soil types. Growth rate averages 2-4 ft. per year. Acorn production begins between 5-10 years of age. Some of our customers have reported fruiting in 3 years on 5 ft tall trees. Symmetrical crown eventually develops into a dense, round or oval shape. Leaves can be large and clean of foliar diseases. Probably the best acorn producer in our white oak groups.
Plant Specs
Genus & Species:
Quercus macrocarpa x robur (mcdanielli)
Seed Source:
Ecos-Michigan
Hardiness:
-30
Height (ft):
70
Width (ft):
50
Pollination Requirements:
Self fertile but two plants is best or add any other white oak hybrid.
Soil:
Not particular.Sand, loam or clay. Not wet.
Climate:
Zones 3-9. Apparently tolerant of dry western conditions as well as the humid south.