Chestnutleaf Oak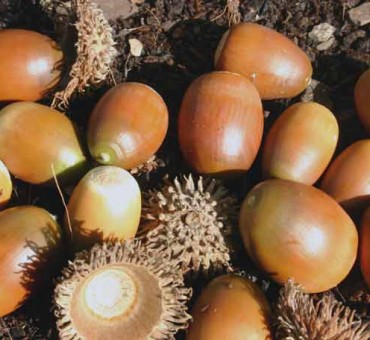 Fastest Growth of All Species - High Acorn Production
Fastest growing oak tree at our farm producing a very dominant central leader with symmetrical branching. Our ECOS strain originated from acorns produced from arboretums where hybridization can be significant with this species. Our seed planting was made using the most vigorous trees many of which grew 6 ft. tall in 2 years. Some may be hybridized with turkey and sawtooth oak. We have trees that show no sign of winter damage. Acorn production begins in 10-15 years. One of the most productive oaks we have at our farm yielding over 50 lbs. per tree on 20-year-old trees.Probably the only red oak type that seems to always have a crop even though there are low years, there is rarely a completely off year.
Plant Specs
Genus & Species:
Quercus x castanaefolia
Seed Source:
Ecos-Michigan
Hardiness:
-20
Height (ft):
80
Width (ft):
35
Pollination Requirements:
Best to have two for nut set although may be self fertile totally.
Soil:
Sandy loam. Not particular.
Climate:
Zone 4-9. Seems to grow well in dry hot climates due to the glossy leaves.
Ease of Cultivation:
Like the sawtooth oak very easy to grow in any type of soil. Not alkaline sensitive.