Sargent Oak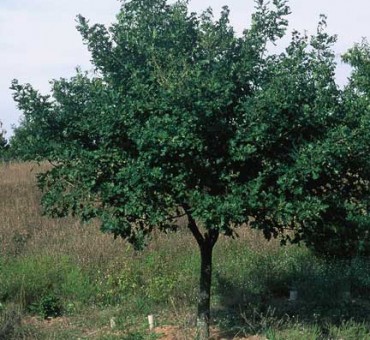 Forage-Large Acorn with Good Production
Well known hybrid oak that dates back to 1830. Several large trees exist in the U.S. and Europe. Early ripening acorns are quickly consumed by deer. We have to pick them from the tree before they hit the ground. The earliest acorn to ripen here at our farm. Our Ecos parent tree is a broad spreading tree with clean foliage. Seedlings from the group are like burenglish showing fast growth, straight growth habit and dominant central leader. This hybrid oak has great range of adaptibility in soil and climate and is very tolerant of heat and drought. One of the most reliable acorn producers in our planting.
Plant Specs
Genus & Species:
Quercus x sargentii
Seed Source:
Ecos-Michigan
Hardiness:
-25
Height (ft):
70
Width (ft):
70
Soil:
Sandy, to loam -Adaptable-wet or dry.
Climate:
Zone 3-9. Does best in the northeast but good over a wide range of climates.
Ease of Cultivation:
This is the easiest oak to grow under almost every condition.