Missouri Gooseberry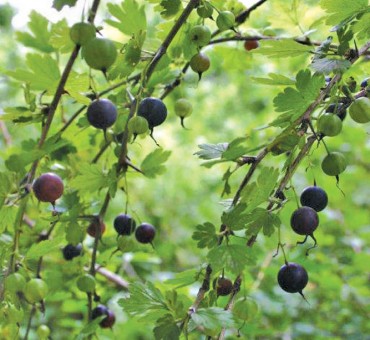 Smooth Black Gooseberry-Good Yields-Easy to Cultivate
Some of the early American gooseberries used this species as part of its breeding due to its resistance to disease and increased productivity. The dark purple berries ripen in July and have to be very delicately plucked from the thorny branches. Good fresh or processed. The flavor is as good or better than any cultivated gooseberry we have tried. Best to let the fruit fully ripen on the bush to mellow the acidity. One of the most high yielding gooseberries we have grown. All the plants we have at our farm fruit and are self fruitful. This selection always has clean foliage free of disease staying green throughout the summer season. Quite vigorous in growth will reach 3 ft. tall. No shipment to ME, VT, NH,CT,VA and some of northern Michigan. Ask us for a map should you need it.
Plant Specs
Genus & Species:
Ribes missouriensis (gracile)
Seed Source:
Southwestern Michigan
Hardiness:
-25F
Height (ft):
3-5
Width (ft):
3
Pollination Requirements:
Is self fruitful in our plantings, not like the information on line. Not M or F.
Soil:
Sandy loam, Moist is ideal. High organic good.
Climate:
Zone 4-8.
Ease of Cultivation:
Easy to grow but tricky to pick due to the thorns. High yielding but prune to keep a few largest canes to allow them the greater energy for Otherwise it becomes too dense foliage wise to ripen fruit evenly.