Northern Gooseberry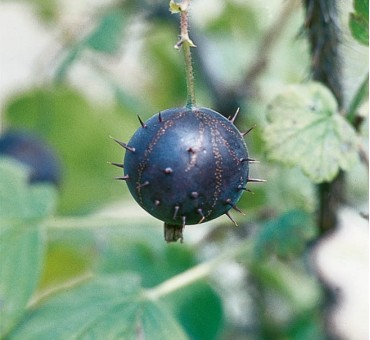 Tart-High Energy Fruit-Shade Tolerant
Excellent flavored sour native gooseberry with 1/2" dark reddish purple fruit. Best to process to remove the seeds and skins to make pie or jam. Best growth in an acidic moist sandy soil in part shade. Our Ecos selection is from the Western Upper Peninsula in Michigan selected for larger fruit size and full crops. This species gooseberry is much like many of the southern species but the fruit is black instead of green. It is a thorny plant with multiple branches emerging from a center crown. It has much less foliage than Missouri gooseberry and easier to find and pick the fruit. It has so far remained free of all insect and disease damage. The leaves always remain clean of fungus and it is possible it is immune to white pine blister rust. Mulch with wood chips.
Plant Specs
Genus & Species:
Ribes oxyacanthoides var calcicola
Seed Source:
Michigan Upper Peninsula
Hardiness:
-40
Height (ft):
2
Width (ft):
2
Pollination Requirements:
Bumblebees. Self fertile as far as we know.
Soil:
Sandy loam or sandy rock. Mulch with organic.
Climate:
Zone 3-6 ideal. Best as a northern plant. Has not been tested much in the south. Grows well in zone 6.
Ease of Cultivation:
Easy to grow and fruit.Yields are limited so keep vigorous by using blueberry fertilizer. Not a deep shade plant if you want yields.