Regent Saskatoon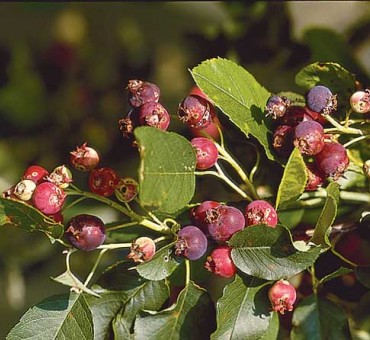 High quality fruit with mild apple blueberry flavor
Originally from Bailey Nurseries in Minnesota, Regent has high yields and good quality fruit. When fully ripe, dark blue fruit has a nice sweet-tart flavor balance with a hint of almond. Highly recommended for all wild food enthusiasts who enjoy blueberries but don't have the type of ground to grow them. The fruit can be used the same way. Saskatoons have ten times more vitamin C than blueberries. This selection is more dwarf than the saskatoons and may reach only 4-5 ft. tall in most locations. It tends to stolon or runner out from the plant making it easy to propagate from root cuttings. The plants begin to flower and fruit in the same year of planting or 1 year from planting. The flavor, consistent yields and its ease of cultivation make it an ideal edible landscape plant.
Plant Specs
Genus & Species:
Amelanchier stolonifera 'Regent'
Seed Source:
Minnesota
Hardiness:
-35
Height (ft):
8
Width (ft):
6
Pollination Requirements:
Self fertile.
Soil:
Good in sandy loam, loam and sand.
Climate:
Zone 3-6. Best in northern areas.
Ease of Cultivation:
Very easy to grow and fruit. Some humidity issues may involve using organic sprays for disease.