Sweet Blue Juneberry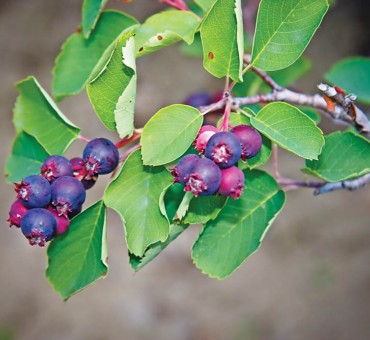 Reliable - Sweet Blue Fruit up to 1/2 inch in size
Found as a chance seedling in northern Michigan this selection produces much more fruit than the Canadian selections with a mild sweet flavor. 1/2 inch size fruits are produced in loose clusters. This seedling was selected from a plant that did not fit the normal species found in northern Michigan. We are still not sure what species it might be. It even runners a little bit and is more of a bush than a tree. Flowers are similar to the saskatoon. The fruit quality is the best with just the right balance of tart and sweet.
Plant Specs
Genus & Species:
Amelanchier species
Seed Source:
Michigan Upper Penninsula
Hardiness:
-30
Height (ft):
10-15
Width (ft):
10
Pollination Requirements:
Self fertile.
Soil:
Sandy, dry, slightly acidic
Climate:
Zone 3-6 ideal. Not as good farther south.
Ease of Cultivation:
Easy to grow. Slow to get started. Fruits in 4-6 years from seed.