Lecont Pear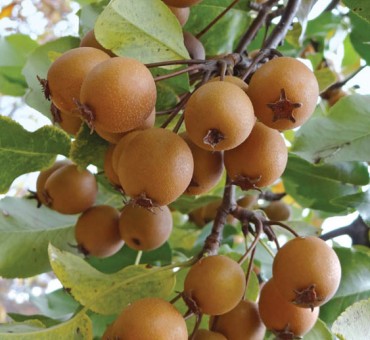 Heavy Fruiting Wild Pear Cross found from Florida to Michigan
The variety 'Keifer' and 'Le Conte' came from this cross and are cosidered 'pie pears.'This small pyramidal tree produces ½-1 inch yellow fruit with has glossy green leaves. Enjoy its beautifully rich autumn color of reds and purples. Ecos Lecont Pear was found as a seedling tree in our plantings that came from a group of tall wild pears in a hedge row in southwestern Michigan. We started with two trees from this cross and one of them produces very uniform seedlings that could be used either for fruit or even grafting as a rootstock for other pears..The tart fruit hangs in massive quantities and drops throughout December. It is an excellent fruit producer for birds and deer. Trees maintain a strong central leader. There was one season where a portion of the tree suffered from fireblight. But over the course there have been no other insect or disease problems. The flavor of the fruit once processed is very good and it is used for drinks and syrups as well as jelly with a punch.
https://oikostreecrops.com/products/seeds/fruits-and-vegetables/lecont-pear-seeds/ For seeds
Plant Specs
Genus & Species:
Pyrus x lecontei
Seed Source:
Michigan, Ecos
Hardiness:
-30
Height (ft):
60
Width (ft):
30
Pollination Requirements:
Self fertile and will cross with other pears.
Soil:
Can grow in a wide range of soils except wet.
Climate:
Zone 3-9. Southern part of its range should be OK with this strain as fire blight has had minimal effect so far.
Ease of Cultivation:
Major easy. Browsing from deer can be tricky in the beginning. No fireblight but may be different in humid southern conditions. Super yields. Be prepared to have a lot of pears. Can be used as a kind of universal pear rootstock as well.