Moonrise Pear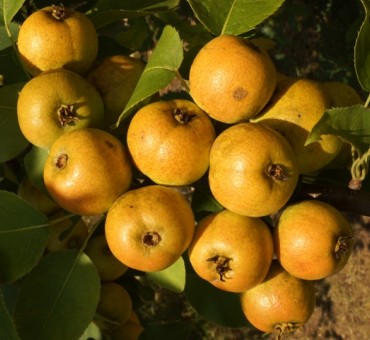 Moonrise pear is the wild form of the cultivated Asian pear. It is found in some of the toughest climates in the world growing out of granite outcrops in the mountains of Korea. The fruit is extremely tart and almost impossible to eat fresh. Much like a medlar letting it sit to ripen on the ground and processing it with sugar into syrup or jam is one way to tame its flavor. It has been one of the most requested jams at the owners house.Moonrise pear ripens its fruit starting in July and goes through September. After twenty years or growing on our 'denuded' hillside this pear has no issues with disease or any insect. Even the deer enjoy it although they too seem to let it further ripen on the ground before consuming vast quantities. Each tree produces huge amounts of fruit growing all along the branches.
Plant Specs
Genus & Species:
Pyrus pyrifolia
Seed Source:
Michigan, Ecos
Hardiness:
-20F or more
Height (ft):
20-40
Width (ft):
20-40
Pollination Requirements:
Self fertile and will cross with itself
Soil:
Rock and sand or loam
Climate:
Zone 4 - zone 9
Ease of Cultivation:
Anyone can grow it. It has a lot of fruit spurs which makes pruning a delicate operation.