Beach Plum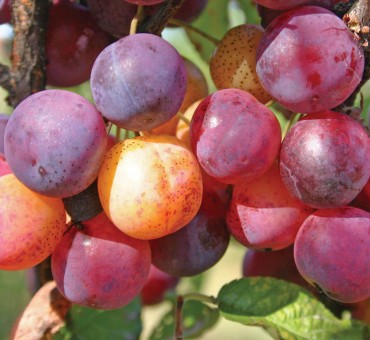 Native East Coast Species- Highly Productive
Native to sandy areas on the eastern seaboard from Virginia to Maine. Fruit can be eaten fresh and makes a great jam. Beautiful white flowers, compact growing and extremely productive. Can be pruned to attain a small tree to 6 feet or used for an informal hedge up to 10 feet wide. High in vitamin A; about 1000 IU in a cup and cholesterol-lowering pectin. The last Prunus species to flower missing frosts so there is always a crop. Can grow in pure sand or your average loam soil. Plant two for pollination and best fruit set.
Plant Specs
Genus & Species:
Prunus maritima
Seed Source:
Michigan
Hardiness:
-35 F
Height (ft):
10
Width (ft):
10
Pollination Requirements:
Any two plants will cross pollinate.They can be the same type or different. Doesn't matter.
Soil:
Sand to loam. You don't need sand to grow and fruit it.
Climate:
Zone 3-8. Once established very drought tolerant. High humidity in July or August during ripening can be tricky.
Ease of Cultivation:
Anyone can grow it. Full sun, Low fertility soils ideal. Rarely has insects or disease issues. Tap rooted so give it time to reestablish.