Black Raspberry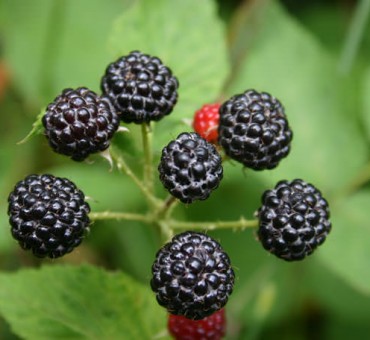 Prolific Fruiting-Great for Jelly or Fresh Eating
This species is the most common raspberry found in many a field where it forms dense colonies by tip layering its way along. Its strong blackberry flavor can be used to make pies, jams and jellies. Frequently the seeds are removed but it it not necessary as it is compared to wild blackberries which can seem like small meteorites on your teeth. Canes can be cut down after fruiting as they fruit only on one year canes. They will naturally die down to the ground on their own. We are using Michigan selections that are good fruiters here at our farm. The only downside of this species is its abilitty not to retain fruit if there is a drought during fruiting season which occurs during June and July. Otherwise there is always a good crop of good yield. Probably one of the most recognized wild fruits and consumed fresh despite the seed count. Note: These plants will 'sucker' from the base after you plant them-let them do it. Those are the canes that will have fruit next year.
Plant Specs
Genus & Species:
Rubus occidentalis
Seed Source:
MI
Hardiness:
-30
Height (ft):
4
Width (ft):
2
Pollination Requirements:
Self fertile.
Soil:
Best in loam or other moisture retentive soil type. Mulch em if you got it.
Climate:
Zones 3-8. Best in zones 3-6.
Ease of Cultivation:
Anyone can grow it. Almost impossible to fail. Water during drought. Avoid shade.