Illinois Blackberry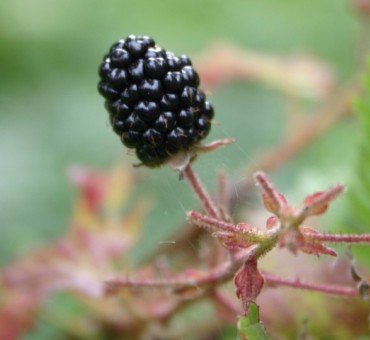 Most of the blackberry cultivars are just not hardy enough. Illinois solves this problem. By using selected seedlings from other cultivars and seedlings we were able to create a strain of hardy blackberry fully hardy into zone 5 and maybe beyond. The fruits tend to stick to the top of the plant as well. This selection will spread by underground stolons but not as industrial as the species types. Height is short reaching 3-4 ft. at tops. Canes should be removed after 2 years. Plants will naturally regenerate from the base as well as root cuttings. Thorns are prevalent on the canes making picking a bit tricky. But yields are great even in part shade of the walnuts we have them under. No apparent disease or insects with this selection. Does not die to the ground in cold winters as well.
Plants are grown in paper pots and well rooted. (2 yr. Plants) Even though the tops are small , they will grow quickly and fruit in 1-2 years once they get up to 2-3 ft tall.
Plant Specs
Genus & Species:
Rubus hybrids
Seed Source:
Michigan
Hardiness:
-20F
Height (ft):
3-4
Width (ft):
3-6
Pollination Requirements:
Self fertile
Soil:
Sand or loam. Not particular.
Climate:
Easy to grow in the midwest and northeast.
Ease of Cultivation:
Easy to grow and fruit. Anyone can fruit this. No spray needed.