Yellow Black Raspberry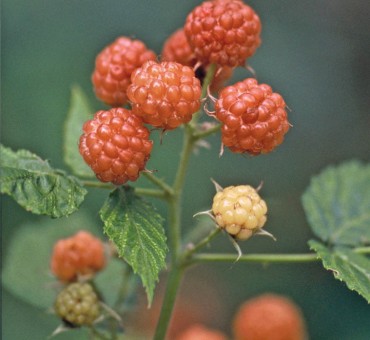 Mild Flavored Raspberry - Golden Yellow Color
This rare raspberry is found with the wild black raspberry where it is identical in all aspects except the fruit is a bright yellow with green canes. The mild flavored fruit is 1/2" in size and produced in clusters. Not as spreading as the black. Colors vary from yellow and black from this seed source but the majority of the seedlings are yellow. One of the advantages of this strain is the clean fruit with a kind of pineapple flavor. Grows like the black we sell only the canes are longer usually up to 4 ft. tall. Fruit is produced all along the cane. Variations occur within the seedlings and where some are more productive than others or have black fruit. These too are quite delicious and add a certain variation in flavor not found in black raspberries.
Plant Specs
Genus & Species:
Rubus occidentalis Flava
Seed Source:
Ecos, Michigan
Hardiness:
-25
Height (ft):
5-6
Width (ft):
1
Pollination Requirements:
Self fertile.
Soil:
Grows in most soils but not wet.
Climate:
Zone 4-8
Ease of Cultivation:
Super easy to grow and fruit. Avoid heavy shade.