Simon Groundnut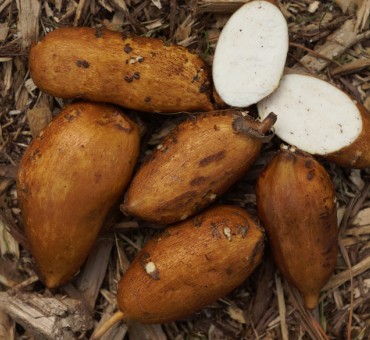 Simon Groundnut (#1972) was developed as part of a breeding program using southern U.S. selections with minimal rhizome production and larger uniform tubers. We have been growing this selection for more than 20 years at our farm in southern Michigan and found it to be not only a good yielder but fully hardy in Michigan. The tuber size is not as large in the first year as it is in the south but the yields have been good even if it meant harvesting the 2nd year tubers. It is certainly adapted in the north to zone 5. In Zone 7 the tuber size increases with the summer heat. We have had good results in our polyhouses too. Simon groundnut can be used for chips and mashing. The smooth enlongated tubers make it a tad more easy to peel. This selection does flower in profusion and may produce seeds under the right conditions. (Developed by Dr. Blackmon from Louisiana State University.)
Plant Specs
Genus & Species:
Apios americana
Seed Source:
Louisiana and other southern locations
Hardiness:
-20F
Height (ft):
20-30
Width (ft):
1-4
Pollination Requirements:
For pea production plant a couple of varieties minimum. Not well known really.
Soil:
For moist soil or irrigate. Sandy loam, clay loam.
Climate:
zone 5-9. A good southern selection that can grow in the north as well.
Ease of Cultivation:
Not everyone can grow potatoes-but everyone can grow groundnuts.