Dark Freckles Violet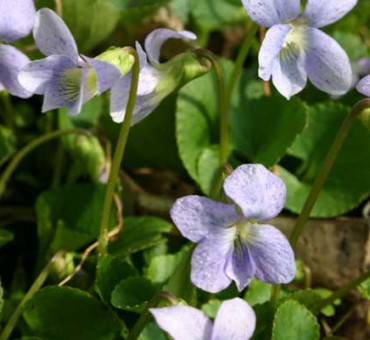 Edible Flowers and Foliage -Vigorous Grower
Dark Freckles Violet is a vigorous grower and has dark green leaves with unique speckled flowers. The foliage has a mild flavor making it a perfect addition to a salad. This species can grow true from seed or be reproduced by root divisions. Freckles retains its foliage better in high heat compared to the Ecos selections of white and blue plus is a more vigorous grower in shade. The edible speckled white and blue flowers are produced above the foliage in early spring.
Plant Specs
Genus & Species:
Viola sororia
Seed Source:
Dark Freckles Hybrid
Hardiness:
-25
Height (ft):
0.25
Width (ft):
0.1
Soil:
Adaptable-Does well in most soils.
Climate:
More of a cool weather plant producing lush leaves in the spring and early summer . Zone 3-8.
Ease of Cultivation:
Quite a spreader. Heavy yields of dark green leaves.