'Edible Blue' Wild Violet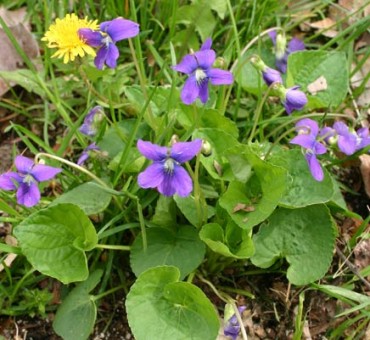 Tasty Greens-Edible Groundcover
Violets can be eaten as cooked greens with okra-like qualities, or fresh in a salad. Leaves are rich in Vitamin A and C. Easy harvesting. Mixing with other salad greens adds a kind of juiciness. Best quality leaves are harvested in the spring and early summer. Prefers cool sites-cool weather for best greens production. The mildly flavored sweet flowers can be harvested and used in tea or as a garnish in a salad. This selection was found near an woods edge working its way into a moss filled yard in southwestern Michigan.
Plant Specs
Genus & Species:
Viola sororia
Seed Source:
Michigan
Hardiness:
-25
Height (ft):
0.5
Width (ft):
0.5
Soil:
Not particular.
Climate:
Does best in cool moist climates.
Ease of Cultivation:
Anyone can grow this. Very shade tolerant.