'Edible White' Wild Violet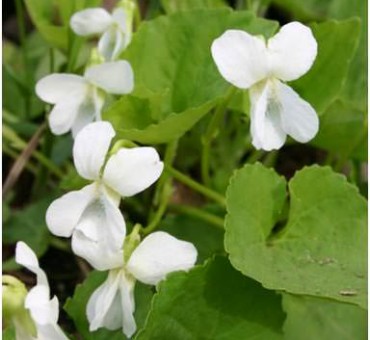 'Sweet White Violet' Delicious Perennial Greens
Found as a seedling in our 'Edible Blue' patch, this selection is even more tender and mild. It's easy to grow this flavorful, juicy perennial salad plant. Produces true-to-type from seed and can be split from the rootstock. This is a great addtion to as a perennial understorey crop which can be mowed and planted as a grass substitute or at minimum a groundcover under nut and oak trees. Foliage production decreases in the summer when the plant goes dormant during droughts and heat. The thick rootstock holds and retains soil and prevents eroison on our sandy hillsides.
Plant Specs
Genus & Species:
Viola sororia alba
Seed Source:
Michigan
Hardiness:
-25
Height (ft):
0.5
Width (ft):
0.5
Soil:
Sandy loam, loam, best yield in rich soils
Climate:
Zone 3-7. Best in moist cool climates. Goes dormant in hot summers usually.
Ease of Cultivation:
Prefers moist under story light shade for maximum leaf size.