Giant Solomon's Seal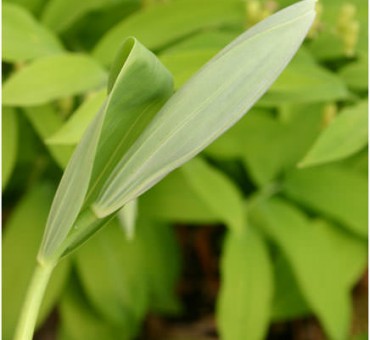 This woodland species in the lily family produces a delicious green spring vegetable. It should be harvested just prior to the leaves opening. The flavor is much like a mild asparagus or spinach and can be eaten fresh or lightly steamed. It has a little bit of an arugula bite to it and is not fibrous when young. Numerous cuttings in season can be taken as it has a large rootstock. Plant in light shade. Our seed source originally came from oak woodland in southwest Michigan where the plants grew to 5 ft. tall. Grown both from seed and cuttings at our farm. This is kind of cool species to grow in the shade. Not practical for production purposes but has possibilities.
Plant Specs
Genus & Species:
Polygonatum biflorum var commutatum
Seed Source:
Michigan
Hardiness:
-30
Height (ft):
5
Width (ft):
1
Soil:
Woodland species best in rich organic soil.
Climate:
Zone 4-8.
Ease of Cultivation:
In shade, an easy plant to grow which spreads slowly. Yields are low and fleeting offering a crop only in the spring like asparagus. The flavor is good and worth growing a patch even if it is only a nibble plant for you.