Maine Groundnuts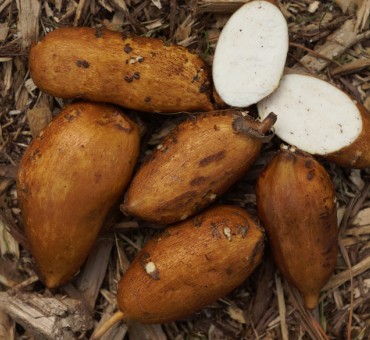 Grown from seed, these selections are a mix of fertile pea and tuber producing plants all grown from the Kennebec groundnut. This strain would be perfect for developing short season selections along with easy to harvest types where the tubers are closer to each other when you dig them up. When you order the Maine groundnut you will get a mix of unnamed types all grown from this same most northern strain. From what we have seen so far the yields have been significant with this strain and more productive than the Nutty types in the first year. Some have long cyndrical shapped tubers. When planting groundnuts, keep in mind not to plant too deep-one to two inches down is deep enough. Lay them on their side horizontally. Harvest after the first frost where the foliage is nearly gone. Can be harvested in the spring as well before dormancy. Our tubers are shipped in the spring and fall when dormant. The image used is the Simon groundnut not the Maine groundnut until we photograph new images.
Plant Specs
Genus & Species:
Apios americana
Seed Source:
Maine
Hardiness:
-30F
Height (ft):
10-15
Width (ft):
1-2
Pollination Requirements:
Should be a producer of seeds if cross pollinated by another one or type.
Soil:
Moist. Sand or loam easy to grow.
Climate:
Zone 3-9
Ease of Cultivation:
Easy to grow and yield.