Virginia Groundnut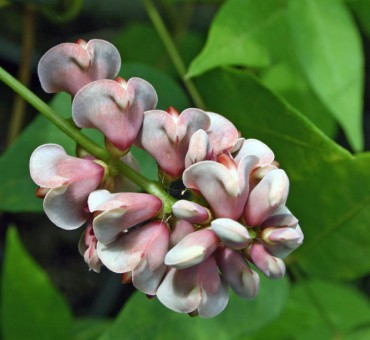 Grown From Seed -Fertile Flowers - Edible Peas
Virginia is a mix of diploid selections which then produces edible seeds as well as tubers when pollinated by another fertile diploid. We include at least 2 types in each packet of tubers. We were fortunate to grow this strain from seed that are known to be diploids which produce the pea pods and tasty peas along with good tuber production. Most of them come from Afton, Virginia. Each plant is genetically different with different types of tubers from small to medium size. We have made some selections with this seed strain and have found the tubers are in often in dense clusters along the root, making harvesting easier. Tubers are 1- 2 inches in size and have a smooth thin skin. Keep in mind the tubers on Virginia are much smaller than the other selections we have, yet are very fruitful and high yielding. It is possible some selections will be produced much like potatoes in more dense clusters making harvesting much easier. That was our goal when we started growing the seedlings.
Plant Specs
Genus & Species:
Apios americana
Seed Source:
Afton, Virginia
Hardiness:
-25
Height (ft):
10-15
Width (ft):
1-3
Pollination Requirements:
Will need two seedlings for pea production.
Soil:
Does best in moist soil but tolerates dry soil. Irrigate for best yields.
Climate:
Zone 3-9. Adaptable to even dry climates.
Ease of Cultivation:
Anyone can grow this. Trellis plus irrigation means a crop in one year.