Mountain Daylily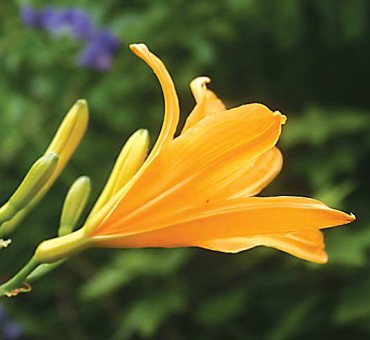 Edible Daylily Flower-Sweeeta,
This is a species of daylily found in the high mountain meadows of Japan and Siberia. The orange flowers have a fruity fragrance and are cooked as a vegetable or added fresh to salad called nikko–kisuge. To a point all daylilies have edible flowers but some people report stomach problems eating some of the roadside types. We have found this species to be much milder in flavor and really good fresh without concern over digestibility. Ours is a seed source originally collected wild in Japan. Flowers in late June on 2–3 foot stems. Earliest of all flowering daylilies. Collect the buds in color but before opening. You have one day to choose! After they flower the petals begin to degrade.
Plant Specs
Genus & Species:
Hemerocallis middendorfii
Seed Source:
Michigan
Hardiness:
-35
Height (ft):
2
Width (ft):
1
Pollination Requirements:
For seed production plant two.
Soil:
Not particular. Sandy and rocky is good.
Climate:
Zone 3-8.
Ease of Cultivation:
Super easy to grow. Yields are not super outstanding yet enough to make you want to add it to a few salads in the spring.