Spikenard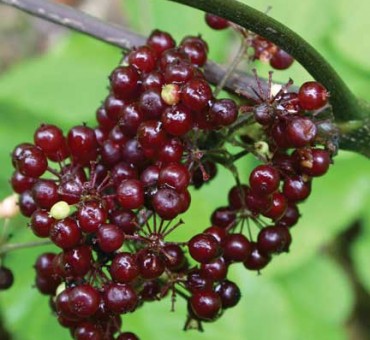 Woodland Root Beer Plant -Aromatic Root-Edible Root
Provides the licorice flavor to root beer. Found in rich woods from Quebec to Kansas. A Menominee dish was made using the root of spikenard, wild onion, gooseberry and sugar. The blanched young spring shoots were also eaten. The fruit is relished by wild turkey. Grows best in part to full shade. A long–lived perennial spikenard can reach up to 6 feet in moist soil but is usually half that in cultivation. Our seed source comes from Michigan's upper peninsula near Lake Superior. It is a vigorous shade loving plant and lasts a long time even as a landscape plant near the house with all the different mixed soil profiles. As far as the edibility goes, the root is very spicey and strong. The young shoots are OK to eat. The fruit is edible but usually only processed into jelly somehow. Not much is known on processing this plant for eating.
Plant Specs
Genus & Species:
Aralia racemosa
Seed Source:
Northern Michigan
Hardiness:
-30F
Height (ft):
6
Width (ft):
4
Pollination Requirements:
Self fertile.
Soil:
Does best in fertile loam soil rich in organic matter and moisture if possible.
Climate:
Found in Zones 3-8 in mountainous areas near streams as well.
Ease of Cultivation:
Very adaptable to a wide range of conditions. Deep tap rooted plant. Fruit relished by birds as they ripen from green to blue.