Giant Sunflower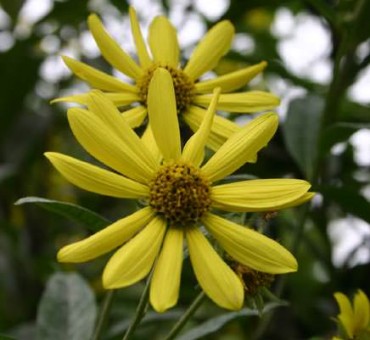 Towering Sunflower Rich in Oil Filled Seeds
Giant sunflower is the giganticus of the perennial sunflowers where it reaches up to 12 ft. tall. It can grow in wet or dry soils. It produces small seeds attractive to a variety of game and song birds. During flowering it is an excellent bee plant and is used by many different types of polliantors. Unlike their cousins, Jerusalem artichokes, these produce fertile seed heads with full seeds rich in oil. Deep rooted, this sunflower can tolerate drought easily. The clean foliage doesn't mildew throughout the season. We grow all of our sunflowers from seed and not cuttings, making the seed production heavier than a single clone.
Plant Specs
Genus & Species:
Helianthus giganteus
Seed Source:
Unknown
Hardiness:
-30
Height (ft):
8
Width (ft):
2
Pollination Requirements:
Seed production is best with two plants although the plants are self fertile.
Soil:
Loam
Climate:
Zone 3-9. Appears adaptable in a variety of climate types including arid conditions once established. A lot like sunchoke in many ways.
Ease of Cultivation:
Easy. Anyone can grow it. Regenerates easily from the roots.