Violets Small Potato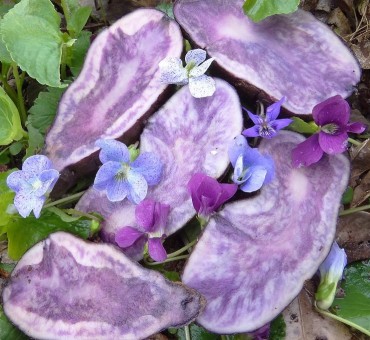 Violets is a small potato selection specifically selected its heavy production of small tubers. The heavy yields are produced in thick clusters near the main stem of the plant making harvesting easy too. This potato has a nice flakey texture excellent for baking. Its small size makes it quick to bake in usually 15 minutes or less. After baking the color is a light bluish violet. This selection is one of many we are working on that matches flavor, yield and ease of cultivation for homeowners. Violets produces a heavy root system and does well in poor soil too. Its square stem along with the hairy leaves appear to resist drought too. Found as a chance seedling from an heirloom potato. You can request fall ship if you wish but normally we will ship these in the spring. Available starting in October of 2019. Cannot ship to AK, ID, NV.
Plant Specs
Genus & Species:
Solanum tuberosum
Seed Source:
Michigan -Our selection
Climate:
Short season potato to 70-80 days.Overwinters fairly well here as well.
Ease of Cultivation:
Has been relatively free of Colorado potato beetle and has never had foliar diseases. The ease of growth and good flavor with a flakey texture make it an all around good potato to produce.