Chickasaw Plum Seeds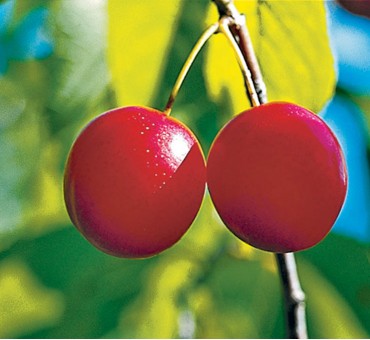 Bright Red Tart Fruit-Selection for Northern Gardens
Chickasaw plum is one of the easiest to grow from seed requiring 90-100 days of cold moist dormancy or plant outside in the fall and let nature takes it course. The indoor method or spring planting: Put the seeds in a moist media like Canadian peatmoss that is lightly moist but not overly wet. Store for about one week at room temperature and then put in the refrigerator for 90 days at 34 F to 40 F. Some seeds will begin splitting in 60 days. These you can take out and plant in pots or keep them with the other seeds and plant them all outside in the spring about 1/2 inch deep with seeds 1 inch apart. Seeds will emerge in 7-30 days. Seedlings will grow 6-18 inches in one year. A portion of the seeds may go through 2 dormancies to sprout. Very easy to produce this plum which has clean foliage and great resistance to disease. Our strain is probably one zone more cold hardy than other seed strains as the location of the planting is in a frost pocket where it has dropped to below -15F for sure.
Plant Specs
Genus & Species:
Prunus angustifolia
Seed Source:
Michigan Strain
Hardiness:
-20F
Height (ft):
15-25
Width (ft):
15-25
Pollination Requirements:
Somewhat self fertile but may benefit from 2 or more plants of itself.
Soil:
Easy to grow in a variety of soils.
Climate:
Zone 4ish to zone 9. Tolerates heat and humidity better than most species plums.
Ease of Cultivation:
Quite easy to grow from seed but may need an additional dormancy to pop all the seeds in one batch.