Hip2Be Dog Rose Seeds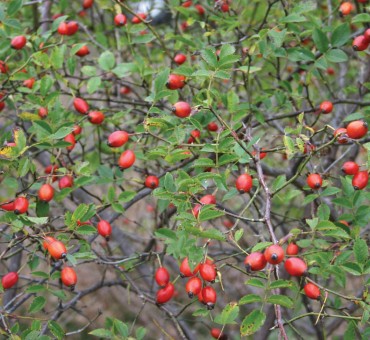 Selection of dog rose hybrid that by far has the highest hip production of all the dog roses we have seen. Good in the flavor department as well. This species is noted for its vigor and the sweet smell of it pink blossoms which actually taste pretty good too. We found this selection as an errant seedling on a college campus here in Michigan and propagated it from seeds before it was destroyed by 'Grounds'. We kept one of the most vigorous and disease free selection and it also turned out to be the most productive. It does not sucker.
To germinate the seeds: Store in lightly moist peat moss for 90-120 days in refrigerator storage from 33-38 F. After 90 days, some of the seeds may germinate quickly. Pick those out and plant carefully in a well drained soil mix. A portion of the seeds will not but will sprout the following season. Normally the rose seed has a hard and rather water repellant seed coat and letting the soil bacteria work on it , will cause the seed coat to break down and then allow for germination to take place. The best method:Plant outside 1/8 inch deep outside in the fall placing seeds 1/4 inch apart. Easier to grow outside than in pots.
Plant Specs
Genus & Species:
Rosa canina
Seed Source:
Kalamazoo, Michigan
Hardiness:
-25F
Width (ft):
15 ft.
Pollination Requirements:
Self fertile.
Soil:
Sand to loam-not particular.
Climate:
Zone 4-8. Kind of a northern species and used as a root stock for other roses.
Ease of Cultivation:
One of the most vigorous. Super easy to grow fast.