Dryland Blueberry Seed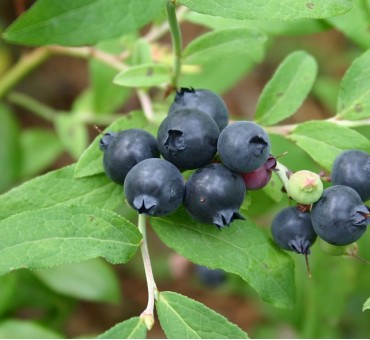 Dry Soil Type of Wild Blueberry Selected from High and Dry Location
This natural hybrid of wild blueberry was found in what would be considered the opposite of almost all cultivated blueberries-sand and toasty hot. The highbush lowbush selection was a small fruited but incredibly productive blueberry with a rich strong flavor also the opposite of most commercial blueberries. Grown from seed you can make your own selection from this self pollinating plant. It is not hard to do really. We keep the seeds cold and not too dry as drying increases dormancy.
Here is how to grow it from seed: Sprinkle the seed in a flat filled with a smooth flat surface of peat moss or similiar soil mix. Lightly cover the seeds with sand just enough to hold them in place. Put outside or store in a polyhouse all winter. The cold weather will naturally stratify the seeds for 60-90 days. Seedlings emerge slowly as spring progresses over a two month period. These can be plucked out (note: they are very tiny) and put in pots or kept in the flat for one full year before transplanting. Another method is to put the seeds in a bag of half and half sand and peat moss. Store for 90-120 days in the fridge from 33-38F . After the cold period, sprinkle the mixture on top of a flat then wait. Most will come up in one year. A portion will come up the second year. It is hard to predict the percentage of germination the first year, but do not throw out the mixture thinking it was a failure as the seeds are likely still dormant and will be best to let be until the folllowing year when the remainder will come up.
Plant Specs
Genus & Species:
Vaccinium angustifolium x corymbosum
Seed Source:
Michigan
Hardiness:
-30F or more
Height (ft):
4
Width (ft):
Stolons out (4-6)
Pollination Requirements:
Bumblebees, honeybees, self fertile
Soil:
Sandy or sandy loam, slightly acidic,dry good
Climate:
Zone 3-8
Ease of Cultivation:
Easiest of the blueberries to grow. Avoid shade. Plants produce fruit under the foliage and is generally not consumed by birds. Worthwhile growing from seed and may spawn a new generation of drought tolerant blueberries the opposite of what is available now.