Big Hip Rose Seeds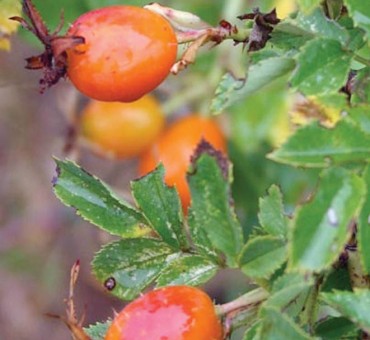 Large Hips-Dense Clusters of Fruit
Selected from Apple Rose, Rosa pomifera-villosa, Big Hip has produced the most fruit in the smallest amount of plant. Even small 1 ft tall plants can be packed with fruit. Best in full sun in exposed sites. Thorny, but fruits are at the end of the branches. These plants runner very lightly if at all. Each plant can grow up to 2-4 ft. tall with side branches extending 2-3 ft. in either direction. Flavor of the flowers and hips is very good.
To germinate the seeds: Rose seeds have a tough seed coat so normally germination occurs over a period of 1-3 years. Keep this in mind before giving up. Fall planting should be done as early as possible to help with the scarification and stratification of the seeds. Plant 1/8 inch deep. Tamp hard into the soil and lightly mulch. Seeds will sprout usually in the following spring and summer and then again the following year to some extent.
For the indoor method do the usual fridge cold 33-38 F for 60-120 days. Rose seeds sprout in the fridge very easily. Put them in slightly moist pear moss and then refrigerate for 60-120 days. Some sprouting will occur in the fridge. Some seeds will need an additional warm period to sprout fully so then plant outside and they will come up the following year in the spring. Easier to grow outside as the soil bacteria works on the seed coat. Few animals seem to eat the seed once it is in the ground.
Plant Specs
Genus & Species:
Rosa villosa x pomifera hybrid
Seed Source:
Michigan
Hardiness:
-25F or so.
Height (ft):
2-3
Width (ft):
2-3
Pollination Requirements:
Self fertile
Soil:
Sandy loam. Slightly acidic ideal.
Ease of Cultivation:
Very easy to grow from seed but patience is needed.