Hungarian Cornelian Cherry Seeds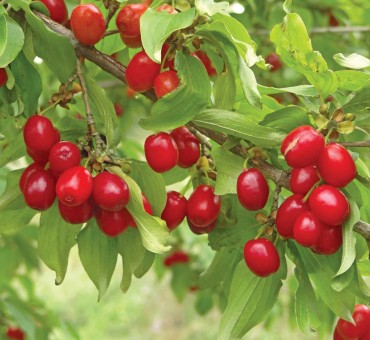 Edible Cherry Dogwood - Fruits in the Shade
Cultivated for use in sauces, conserves, and marmalades. Fruits are eaten fresh, dried, preserved in syrup, wine, sauces and unripe fruits pickled and made into olives. Similar in flavor to a very tart cherry. High in vitamin C and pectin. Fruits start ripening in August. No insect or disease problems associated with the fruit or tree. Bright yellow flowers in March. Always has a good crop of fruit. Our seed tree is originally from Hungary. It is a darker fruited type with excellent flavor and not as ascorbic when fully ripe.
To germinate the seed: This is a tricky one. Seed remains viable for 4 years in the soil and usually takes two seasons to complete. Each seed has multiple embryos so in case one embryo fails there is at least one back up. Fall plant the seed outside 1/2 inch deep. Mulch if you can as this will help with the breakdown of the outer seed coat. Once the seed coat slowly breaks down the seeds will emerge in 1-2 years and some in the 3rd year. Always a few sprout the first year too.
For indoor germination-one by one: Try lightly sanding the seed and then put in the fridge for 60-120 days in lightly moist canadian peat moss before removing. Some seeds will sprout very quickly in the fridge or out and you have to get them planted and potted right away. Otherwise you will have to do the double dormancy dance a few times to get full germination. Usually the vast majority of seeds will sprout in the second dormancy.
Plant Specs
Genus & Species:
Cornus mas
Seed Source:
Hungary-Origin
Hardiness:
-25F
Height (ft):
15
Width (ft):
15
Pollination Requirements:
Self fertile but two may be beneficial.