Wisconsin Adam's Needle Yucca Seeds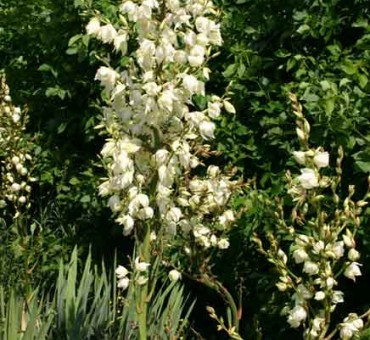 This selection is the tallest and most robust that we have found. Selected by a plant friend of ours who found probably the largest and most evergreen of the species we have seen in 30 years of looking. Flower scapes can reach up to 8 ft. tall. This is quite a diverse collection with major fruiting of the seed pods. Some of the plants are 4 ft. tall which is unusual for yucca in Michigan. Others are the more typical pin cushion shape. To germinate the seed: Yucca has no need for dormancy. Just plant outside in the spring like you would lily seeds about ½ inch deep. Plants will produce a long root as well as a needle looking top in 7-21 days. It takes about 3-4years to get a plant big enough to flower and fruit. It is the most easy seed to germinate we have. 60 % cut test.
Plant Specs
Genus & Species:
Yucca filamentosa
Seed Source:
Wisconsin
Hardiness:
-20 F
Height (ft):
8 ft. flowers
Width (ft):
3-4
Soil:
Can grow in rock and clay. Not particular.
Climate:
Zone 3-10. Tolerates heat and dry.
Ease of Cultivation:
Anyone can grow it from seed. No germination dormancy.