Loebner Magnolia Seeds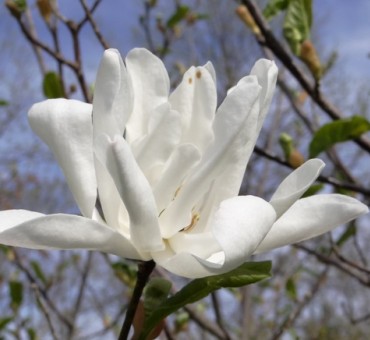 Magnolia for dry conditions with low soil fertility? Call Doctor Moe!
Loebner magnolia is a natural hybrid of star and saucer magnolias. Its vigor and adaptibility to less than ideal conditions makes this a durable and popular landscape selection in the north. We had the thought-can it be reselected for a more unforgiving environment. Our means of selection was done on raising over a thousand seedlings of this hybrid and planting the best of twenty on top of a wind swept sandy hill top. (Pretty much the opposite of what you normally would do with a magnolia.) Eventually we found these selections that were more vigorous, able to grow in soil with little organic matter which eventually lead to heavy fruiting and seed production in years. Plants can be grown from seed with this hybrid selection. These are more shrub like but can be pruned up to from a single trunk.
To germinate the seed: Give it a cold moist period for 90-120 days in 33F to 38F. Take out of the refrigerator and set at room temperature after the cold period. Seeds will sprout in 1-3 weeks. The seed will split and the roots will come out first. Make sure to plant with the root pointing down. Just barely cover the seed.
On the seeds: Never let the seed dry out. We have these packaged in a zip lock bag with a moist soil media. When you get them, you can then add a little more moist peat moss in them, mix it up thoroughly and then refridgerate.
Plant Specs
Genus & Species:
Magnolia stellata x soulangiana
Seed Source:
Michigan
Hardiness:
-25 F
Height (ft):
15
Width (ft):
15
Soil:
Adaptable. Sandy loam to clay loams. Highly alkaline would not be desirable.
Climate:
Zone 3-9
Ease of Cultivation:
Easy to grow from seed as seedlings are quite durable and not finicky.