American Beauty Atlantic White Cedar Seeds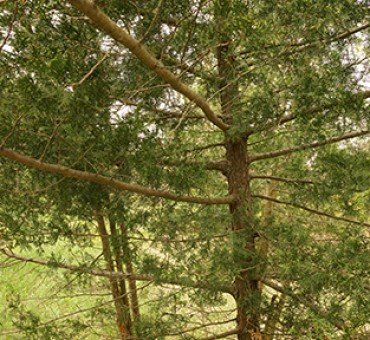 One of the rarest evergreens to get seeds,we were fortunate to make a small planting of 7 trees which now provide us with many small seeds in tiny cones. Normally a wetland tree this species of Chamaecyparis grows along the east coast and is know for its fine water and insect repellant wood. This species is used for outside decking, boat building and other uses similar to bald cypress. We have found it adaptable and easy to grow even in sandy dry soil. One of our customers was telling me his trees grew to 10 ft. in 3 years. His planting was done in a wet sandy area with a high water table. Height to 80 ft. with a large 3-4 ft. trunk. Easily hardy in zone 5 .Our seed source came from an arboretum many years ago who had collected seeds of the plants in New Jersey.
To germinate the seeds: plant outside in fall lighly raking the seeds in the soil They are tiny so careful not to plant too deep. Only a few or none come up the following spring. However, the next spring season almost all of them come up. Another method is to put the seeds in a moisture laden bag of sand, and peat and store near 33 F for 120 days and then plant. Seeds will stay fairly dormant at this temperature and a good portion will come up with this method. (But not always) It is a tricky one ro grow from seed, but patience is needed as I think the seeds need a period of after ripening to germinate more fully that first year. Easy to start from seed though once the dormancy is complete. Does not damp off easily so you usually get a high tree percentage. One of our customers created an outdor seed bed totally enclosed by hardware cloth top to bottom and then just waited. Seed contains about 25-30 percent frass which is difficult to clean fully but the seed count is accurate for each of the packet sizes.
Plant Specs
Genus & Species:
Chamaecyparis thyoides
Seed Source:
New Jersey, Michigan
Hardiness:
-20F maybe more
Height (ft):
60 ft. or more
Width (ft):
20-60
Pollination Requirements:
If you are going to plant them for eventual seed production I would plant ten to insure cross pollination.
Soil:
Wet is good. Dry is OK but slower growth is to be expected. Rich organic soil-slightly or highly acidic works.
Climate:
Zone 4is-9. Probably not a western species but has never been tested as far as we know.
Ease of Cultivation:
Easy to grow as any pine. Germinating the seeds is a little slow so don't give up. Slow but steady wins the race with this species.