Kanaan Cherry Tomato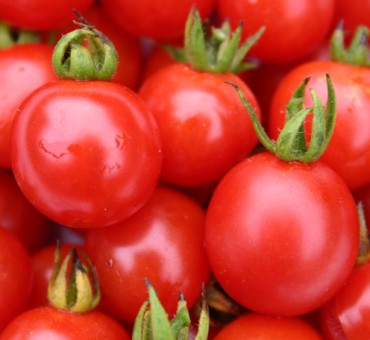 Delicious and Productive without Disease Problems or Cracking
Kanaan combines a full flavor profile, dark red color and high resistance to late blight. And to a certain point, thank goodness it does not taste like a cherry tomato with the normal tang. Its vigor is well known at our farm as "the tomato that can grow anywhere". The vines can grow up to 12 ft. or more which always retain their foliage well into fall. This mid season ripening starts in July and goes till frost. The high yields with almost zero cracking and great flavor make this the only cherry tomato with multiple uses including juicing. Starts ripening in 70 days from seeding. Plant 1/4 inch deep after danger of frost. Seedlings will emerge in 4-7 days depending on soil temperature. We grow this selection isolated and do a full grow out every other year to make sure we haven't lost any of it wonderful heritage genes. From a German breeder who really took a close look at late blight as well as flavor. I wish I could thank him in person.
Plant Specs
Genus & Species:
Solanum lycopersicum
Height (ft):
2
Width (ft):
10 ft. long vines.
Pollination Requirements:
Self fertile and will cross with others likely.
Soil:
Sandy loam.
Climate:
Zone 4-9
Ease of Cultivation:
Heavy yields even if not taken care of to any extent. Self roots easily.