Tsamma Watermelon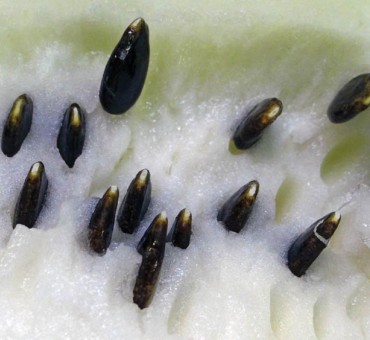 Wild Watermelon - Prior to Modern Cultivation and Hybridization
Fruit of tsamma is best described as plain-like a water laden juice with a light cucumber like flavor. This species can be found in large piles in the middle of the dessert as they are drought resistant and spread by the animals and birds. They are an indispensible part of life for the indigenous peoples of the Kalahari, who store them as a standby source of water. Some Kalahari have said that it is only possible to travel across the desert during melon season. The seeds have higher food value than the flesh, and have been roasted and in some cases made into a peanut butter-like paste. Our wild watermelons, are highly vigorous growing up to 40 feet long. The plants will self root as they go along. All sizes and shapes of this species was found when we did our first grow out. Since then we have mixed larger fruited selections as well as those with no bitter taste found in the flesh. We are experimenting with this species as an understorey crop in our tree crop plantings due to its vigor and yield in poor soil. The goal is to create a wild self seeding population.
Plant Specs
Genus & Species:
Citrullus lanatus var. citroides
Seed Source:
Michigan
Width (ft):
From 10-30 ft. long vines with good tendril production for climbing upwards.
Pollination Requirements:
Self fertile.