Caspian Honeylocust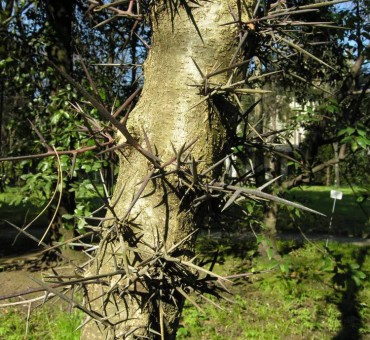 Drought Tolerant-Honey Dripping from Trees
This legume species from Western Asia produces a honey like sap called 'gaz' that was collected by the Persians during Alexander the Great's era. It was made into a candy called Bandar-i-Shah. Massive thorns up to 8 inches long clothe the trunk of the tree. 8 inch pods are produced. Considered a Zone 6 hardiness by most sources, we have found it to be totally hardy at our farm in Michigan and hope our plants soon produce pods. Despite its thorns, the yields of the pods and their sugar content may be valuable for both animal and human food and might be kind of a northern substitute of carob or acaia gum. Like all the honeylocusts we have planted in our fields, the foliage is browsed on by white tail deer. The thorns of this tree act as a detterent to browsing to some extent. Eventually the tree wins out and develops and a rather thick crown.
Plant Specs
Genus & Species:
Gleditsia caspica
Seed Source:
N/A
Hardiness:
-15
Height (ft):
40
Width (ft):
30
Pollination Requirements:
Best to plant 2-3 trees to insure fruit set. Trees produce both male and female blossoms separately but on the same tree.
Soil:
Any soil type. Very adaptable.
Climate:
Zone 5-9. No winter damage in southern Michigan.
Ease of Cultivation:
Anyone can grow these. Super easy.